5 May, 2014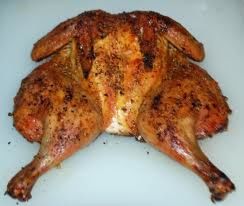 That splayed and crispy-skinned bird is known as a spatchcock, and somehow the answer to 1-Across in the Sunday Times yesterday: Inappropriately insert fowl. I have no idea why.
Perhaps I should ask Colin Hill, the former Archdeacon of West Cumberland. He may be on top of his game, just as I know his initial + surname = CHILL. Hence a clue for the ex-rev could be Relax archdeacon!
In the same vein, with initial + surname, who do these clues signal?
DA1 – Cheers actor
DA2 – Super-speedy librettist
DA3 – Sleazy landlord
DA4 – Lapsed old comedian
Who else can get the initial + surname treatment?
Still going on my Times Tally, with #6 in my sights this morning. Join the quest, or share the best – and worst – of the week's clues below. (And let's also ensure all those Cheaper Cheeper clues are cracked – in last week's Friday Folly.) Please have yourselves a prolix week.