21 July, 2014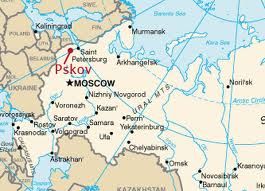 Entering the edgy 80s on my Times Tally, aiming to bundle up 100 crosswords without resorting to the dictionary, the atlas or the Great God Google. Having said that, I nearly slipped on PSKOV, a Russian city near the Estonian border this weekend. Honestly, the mental lint we need to retain to make a century nowadays…
The same puzzle – Times 9994 – was a stinker in fact. The clues contained 2 huhs (first up), then 2 mehs. Can you explain, justify or improve any of these?
Shortly summon agent back over, displaying sarcastic air = CALYPSO [Why sarcastic?]

Swaps blows = TRADES [Is this meant to be a double-definition? When do trades = blows?]

This man now at liberty to quote Milton? = FREEDMAN [Huh & meh all in one. What's the allusion, and why repeat 'man'?]

Smack is back in river, as appointed = DESIGNATE [Another huh/meh blend. Can designate mean appointed, vs appoint? Meanwhile the surface story is muddy, to say the least.]
Any improvements, or enlightenments, appreciated.
Before I go, one quick question: where do you continue to use handwriting? This is for a column, and a festival session coming up. Shopping list? Diary? Crossword? Would love to hear your replies.
Congratz as well to Hamburg (aka JB) for his H-Storm win last week. And here's to another word-wild week, dear dabblers.