4 June, 2012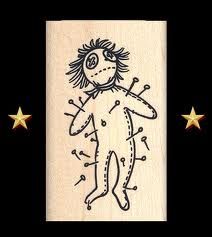 A cute fluke took place last week. Five-Down in the latest Fairfax puzzle was STRIKER, coinciding with a journo walk-out in both cities. (I swear Your Honour, it was a fluke. I composed the grid six weeks before publication.) But those eerie things strike quite a bit. Readers of Puzzled will know I dub the syndrome Crossword Voodoo.
Can you recall a weird resonance happening to you? Maybe you fill in a word, only for the same term to crop up in conversation? (Already one dabbler has told me that AMANUENSIS in Friday's Quick echoed Anna Funder's novel, All That I Am, where the narrator has just that gig. And no, I have yet to read that book.)
Or maybe a name has surfaced – a celeb, or a hotisorical figure – and the same week seeing the person hit the news. Share your voodoo tales here. And then let's take pleasure in pinpointing the best of the week's clues from the G and Times here too.