12 August, 2013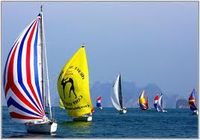 Chill beer after regatta's beginning at 10 = RELAX
Well, it would be RELAX if I'd included a reversal signpost! Apologies for the omission. Sloppy business, as several forums lamented. It's no fun to flub a clue. Though I won't take blame for the odd fluke attending the recent Radio National clue:
Alloy lacking tungsten beat German chain (5,7)
The answer is a name in the news. Dozens of listeners presumed the headliner to be PETER BEATTIE (with PEWTER minus W) + BEAT + TIE. But how did a German chain equate to TIE, they Tweeted and thundered. Answer: it didn't. The actual Peter was PETER CAP/ALDI.
Speaking of names, is ROSA STORELLI (the sacked principal of MLC) the longest female name involving one-point tiles in Scrabble? While Canadian comic – LESLIE NIELSEN – is the maximal male? There must be plenty of others – ELAINE NILE, boxer LESTER ELLIS. Keen to make a tribe of all lengths, in our quest for the longest.
If you're looking for a fun frolic this weekend – speaking to Victorians – then come by Trentham this Sunday for a crossword corroboree at the Words in Winter Fest. Plenty of arty happenings, and you'll get to crack a puzzle – or my skull, for the RELAX rubbish! Have a verbal week.