2 September, 2013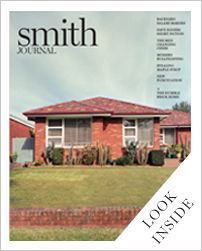 Next time you stroll into a newso, seek out the Smith Journal spring edition, out this week. Inside you'll find my chequered history of the crossword, along with a bonus two-speed DA puzzle that interweaves plenty of Smith's two-year inventory, from hipster speak to retro gadgetry. Also stuff on new-wave punctuation, bullfighting, the chess revolution and the beloved Dave Eggers.
In the lingo department, an emailer named Fiona is wanting some English reform on two fronts. The first is her quest for the annoying and/or construction. When we say if you want the mayo and/or sauce, etc, is there an alternative? (And please don't say horse radish!) Can we invent a substitute?
Reform Front #2 is another slash-word, namely if/when. People say that if/when they go to Bali, or even if-or-when, dodging the possibility of the former, or the probability of the latter. How can we pin down this weaselly hypothetical, or is it here to stay? All suggestions welcome.
A big thanks to SK for relaying his 'divine' book prize in last week's Storm, making the booty available for this week's showdown. And lastly a puzzle to ponder: What four-letter word can repeat its centre as a suffix to make a six-letter synonym?
Of course, the Salon is the place to discuss all things crosswordy, including today's pleasant grapple in the Times, with the best clue my last solve: Extreme way parts of seesaw are different (7) Have fun out there.