6 August, 2012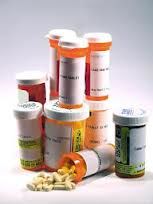 Atacand
Lipitor
Atenolol
Simvastatin
Allopurinol
Clopidogrel
A dear member of the clan has been in hospital for a few days, slowly healing. Her bedside table is a pharmacopia of pills and tablets, as you can see above: the opaque dialect of the sick. I was tempted to turn the drug names into a Storm, but can't wait to shake their sinister sounds.
What about your pharmacy past? Any bizarre names you recall? (By all means protect your medical history, but share if you can.) I'm fascinated by the aura drug-names engender. When my kids were frailer, the fridge was loaded with Scrabbly incantations like Qvar and Pulmicort. Mylanta and Maalox.
We can only hope this week's G-puzzles and Times crosswords avoid such capsules and syrups, and soothe our cryptic cravings instead. Here's the forum to talk drugs, and drugs of choice.