30 September, 2013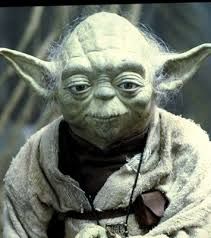 Rejoice, Australians all let us, for young and free, we are. Ring a bell? That's the first line of our anthem according to Yoda. If want to Yoda-fy your own lyrics and sentences, then try this site, and share the strangest outcomes.
Last week I also looked sideways at the Emmy-notching comic, Louis CK (think a fatter, older, darker Seinfeld, divorced with 2 daughters), and wondered what other names could be reduced – WarN BT, LN DgenRS, K CotT, KelC GramR? Not sure about the where and Y of this list, but feel free to extend it. Does an all-phonetic name exist?
No Storm this week as I'm playing radio host on 774ABC, filling in for regular Evenings host, Lindy Burns. Tune in, via radio or streaming. Tonight is a tribute to the best music videos, a chat with Kathy Lette, as well as Julian Burnside QC. Should be a lively studio.
As for crosswords, which we also talk here, I nominate this recent Times clue as the best Hidden of the Year: Run, jumping over nine hedges (6) Have you seen better? Have a verbal week.