3 March, 2014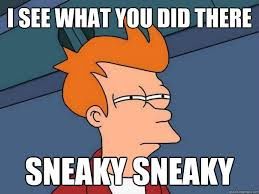 At first blush, be that as it may, time will tell outside the box…
The what? Relax. That opening sentence was entirely built of cliches collected by Carlos Lozada, a journalist with the Washington Post. Rather than the usual suspects – like tip of an iceberg – Lozada has pinpointed the modern hack-speak, such as usual suspects.
Here's the kicker, say. Or fevered speculation. If a poster child isn't trading barbs, then a game-changer serves as a face-saving compromise. Take a look and get that creeping sense of deja vu. Any more to add to the Lozada List?
A passing conundrum: What two opposites can be spoonerised to create both a type of sound beside a quality of sound? (The two opposites both have four letters.)
And a standing invite: use the Salon as a parish pump for any crossword stuff, clue quandaries or general lexical exchanges. Have a wordy week.