21 October, 2013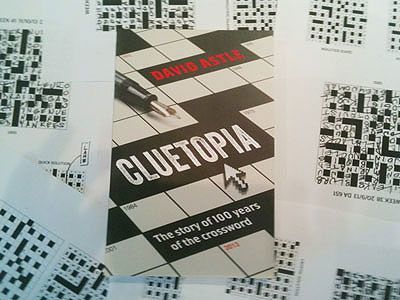 Yay. The week has arrived. Cluetopia is hitting the streets, and so is your blog host to spin and spiel the book's many stories. Packed inside those 300 pages are tales of Nabokov butterflies, England's first official homosexual, a dockyard walk-off, an Estonian ferry disaster, an ice-cream campaign – each one intricately linked to a crossword.
There's even Chapter 1962, where the clue was coined by Ulla, an earlier Storm winner. Not to mention love, death and Superman – Cluetopia teems with puzzle lore. It lands at your local bookstore (or online) midweek.
Or maybe you can't wait. Then take pot luck at Smith Journal, which is giving three copies away. Or wait your chance, once the fires abate, on Adam Spencer's #daplay segment, aired on a Friday coming, where more boons are due. Or order now on Booktopia, no relation, and be for a $250 voucher.
Speaking of coming, my son has his last school day, dressed as Jesus. As I drove the Messiah to the gates, he wondered, "What car would Jesus drive?" I'm still trying to think of a comical riposte. Any help?
And lastly a very cool list of films that have strong linguistic interest, from Avatar's Na'vi tongue, to the dashes of Polari in Velvet Goldmine. The lister is the generous wordsmith Stan Carey, who asks what else is out there? Have you seen a flick of verbal appeal? Or what distorted variants could we add: Apocalypse Noun? Santa Clause? Any semantic comedy?
Share your whims, and your clue joys and wrangles right here, at DA Central.