10 September, 2012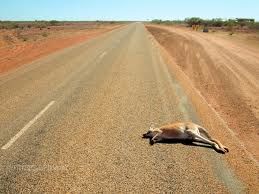 Still reeling from yesterday's violation of North Melbourne. The Eagles were brutal. Masterful. The mauling reached such a pitch I grew to admire our assailants. While the Kangas did so well to make the semis, we were monstered by a great team, a serious flag threat after Hawthorn and a miserly Sydney – and that's not sour grapes talking. The Roos were roadkilled.
Making me feel flat too. No ticklish word stories to report, except a very meh clue I encountered in my new Telegraph book of crosswords. The title calls them Toughie, but nothing you lot should fear. A pretty decent collection too, though this clue from Busman is among the worst I've seen for a while:
Letter from aunt, no name = TAU
Hard to imagine crafting a poorer specimen. Can you redeem it? Can you outdo it? I'm sure you can do the latter.
By the way, here's the Salon for crossword chitchat. You know the drill – the Times and the G, and clues like the Busman's road-crash. The best and the worst, right here all week.