6 October, 2014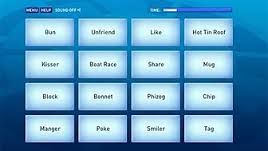 Found a fantastic bunch of lateral thinking puzzles. It's a fan-site for Only Connect, a BBC gameshow that asks contestants to link unlikely words or names. BIRDS, PINK, SHUT and MAGIC, say, can all precede EYE. While ORPHAN, RIVER, WIDOW and GUTTER are all typesetting terms.
In the same spirit, what links these:
DA1 - Arctic, hill, elope, hem
DA2 - pride, flock, swarm, blend
DA3 - prawn, serpent, trout, warrior
DA4 - cone, inane, tern, cast
DA5 - pack, charge, steel, raid
Invent your own, if you like. See if you can stump us. And/or share the pick of crosswords from The G and The Times. Like this gem from a recent puzzle: Make an effort and breed (6). Enjoy your week.