13 October, 2014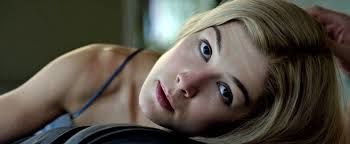 On a scale of 10, Gone Girl gets 9. The film is engrossing - a genuine thriller with sinister statements about wedlock. Not another word, except to say the movie inspired three new puzzle ideas, soon to appear as Wordwits in The Age and SMH.
The first relates to the title. Look at those letters: GONEGIRL. Can you see the hidden oxymoron? First you have GO, and then a blend of GO's antonym: LINGER.
Puzzle #2 relates to the star's name: BEN AFFLECK. The film is a mystery and the minute you drop each name's final duo, you spell what mysteries do: BAFFLE.
Puzzle #3 is where you're invited to contribute. GONE GIRL makes think of words that can lose a girl to become another word. AMY, say, can skip BIGAMY, leaving BIG behind. This inspires the clue: Massive multi-marriage.
See if you can solve these gone-girl clues below? And who can add their own?
DA1 - Total recap (3,7)
DA2 - Dormant viper (3,6)
DA3 - So-so candelabra (3,7)
DA4 - UK wastebasket (7,3)
DA5 - Mountie vessel? (8,3)
DA6 - Cautious white (5,10)
Blab your answers below. Or make your own. And have a verbadelic week