24 November, 2014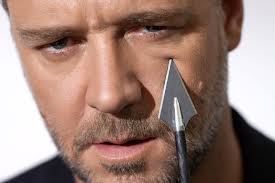 Radio puzzles bring enigmas to life. Closer to Christmas I'll be doing a regular spot on Summer Breakfast with Radio National, as I'd hinted in an earlier post. Right now, aside from writing on riddles, I'm trying to devise smart sonic recipes for the wireless.
One idea is converting notable names to noises. Russell Crowe, say, could be rustling paper + cawing. Maggie Beer? A warble + an ale being poured. While Chopper Read can pair a helicopter with a flute (reed/read - homophones are fine).
For a prize, who can you add? Bonus points if the celeb is Australian, but that's not vital. Surnames are fine too, like Turn-Bull, or Springs-teen. And share any variations you fancy. (I'm still musing H/Amish B/lake as something worth wangling - or toying with titles: Cat on a Hot Tin Roof.) Anything that has a comic/sonic potential is welcome.
The prize is perfect for silly season too - The Biggest Riddle Book in the World, with over 2000 thigh-slappers for that cute-annoying child in your life.
Speaking of riddles, I'm heading back to the manuscript: 75 chapters down and 25 to go. Mini-chapters, I should add, with Santa my deadline. Ho-ho-ho, gotta go. Have a wordy week.