8 June, 2013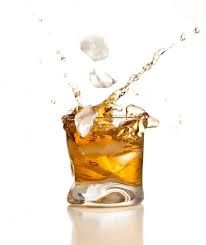 Quite the splash, our send-off for the old sea-dog. A big thanks for all your wily clues and kind words. Eleven distillers mixed their best potions this week, concocting wordplay for two set labels of the lost scotch – and one wildcard label. The results were close – but who won the book? Let's see.
AUCHINBLAE
Inhale cuban with the tip cut off [Glenfiddich gets the craic started with a cracking clue, earning 10 points in 4 votes.]
Terrible Cain starts to hit unsuspecting Abel [But Laphroaig goes two better with CSI Eden, getting 12/4]
DRUMCALDIE
Dud 'miracle cure'? [Keeping with a faint Bible theme, Sporran spikes on 10/4.]
Treat Rudd with malice [But politics wins out, and scores best clue on show for Lagafoolin, with a whopping 17/7]
WILDCARD
DALARUEN = DA, for starters, loves and relishes unusual English nomenclature [Wee Dram tries flattery, and notches a podium, on 9/5.]
LOCHINDAAL = Bum, one in pub [Laphroaig sustains the boozy trope with gusto, also nabbing 9, in 4 votes.]
DALARUEN = Turning nervous now [Sublime reversal from Lagafoolin impresses 4 other plays for 10 points.]
REICLACHAN = Clan [hic] are hammered [Somehow Trainspotter's solecism – clan is a collective singular – bags gold with 16/6. And I can bag Trainspotter coz that was me. Sorry, I.]
So comes the moment where we review the highland games and declare the tourney's strongest. Here's the honour board from modest to mostest: Ferguson 2; Dalvenie 2; Nessie 4; Ronas Hill 5; Wee Dram 10; Glasgow Kiss 11; Sporran 13; Glenfiddich 22; Laphroaig 25; Trainspotter 27; Lagafoolin 35.
All players earned points. All tricks were tried, angles explored – but king (or queen) of the kilts in this rollicking requiem is The Great Lagafoolin. McGratz, and the thanks to all kith & kin. It was a Storm befitting a sea captain. Moor next week. Cheers.
"