17 January, 2012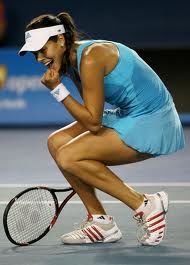 Tennis anyone? Hard to resist, with so much grunt and groan on the plasma. But what say we aim to compile a clue, enlisting a seeded player, to create a tennis-flavoured answer? Can we do that? Yes we can, with a slice of Tomic grit, and a shot of Stosur stamina.
Click here to see the wealth of surnames at your fingertips, the likes of Tipsarevic and Dolgopolov among the boys, or Kanepi and Pavlyuchenkova in the gals. (Of course, Nadal and Li Na can be kinder on the wordplay – but see how you fare.)
A few practice swings:
Stosur suffered upsets = ROUSTS
Leading, Shuai Peng is needing influence on the ball = SPIN
On losing first, third and fourth, Granollers has to create a level playing field? = ROLLERS
Early days, but I'm sure as the tourney unfurls, we'll execute some premium strokes. Enjoy your clueing – and your grunty groaning. (I'm taking the daughter's posse on Thursday for a look-see.)
So is this a Storm? Not officially. Just a bit of January jollies, with no set deadline or podium. Though we could make it funner by numbering your clues (and withholding answers), creating a solving challenge as well as a clue workshop. Thwack. Your shot.