30 August, 2013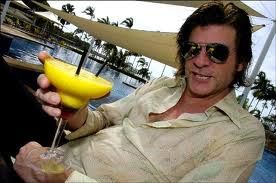 Forgive me. I have a hangover. Someone kept thrusting Coopers and Sambuca shots into my mitt at the Text party, an annual bacchanal of the Melbourne Writers' Festival. If I find that sod, I'll smite him.
To hasten my recovery, let's have a laugh. Pick a name, any name, and change its initials to make two words. Tex Perkins, my example, can be morphed into sex jerkins, earning the clue: Venereal vests? (SJ) Simple idea, but we should uncover some comical combos. And if we've done this Friday folly before, indulge me. This headache is fraying the memory. To kick you off:
DA1 – Candy box (LC)
DA2 – Ex-chief (LB)
DA3 – Put off logging (DF)
DA4 – Yank AC/DC fan? (HB)
Ensure you post quietly. And look for our Divine Storm results, and winner, on Saturday. Cheers.