24 September, 2010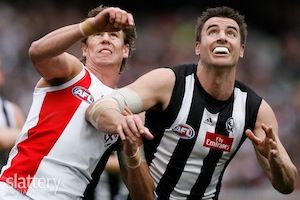 Time for some sport – at the expense of Collingwood, or St Kilda, depending on which team you think will lose the Big One on Saturday.
Now if football is not your thing, or Victoria is a tiny speck in your global view, then please ignore this entertainment. While not a Brainstorm, it will be fun just pooling the collective vitriol, wit and prescience for Season 2010.
How do we play? Simple. With the latest team reshuffle, today's football headlines in The Age won't be too hard to guess. The banner will either read GOLDSACK AND BROWN OUT (or GOLDSACK SACKED, or maybe HEY PRESTI, or BAKER BACK)…what will be the Sunday Age's headline, once the grail has been won?
That's your challenge. INVENT A HEADLINE to adorn the Age's front page in 72 hours time. Go with gags, or genuine bids, or outrageous hopes. The funniest will be its own reward, while the closest to the real McCoy will dazzle for days.
And why not post your bona-fide prediction while you're in mood – who will win, by how much? And the best player on field? Let's see who knows what. Take a stab, and claim your bragging rights. And may the underdog bite back – enjoy your football.
(PS – will publish winners of the Eeny-Menny-Miney-Mho Storm on Saturday. Thanks for some lively brilliance.)
"