15 February, 2013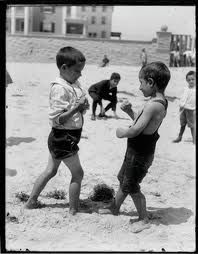 "We shall fight them on the beaches; we shall fight them on the landing grounds…"
British bulldog Winston Churchill knew the value of plain speech. Indeed the same chap also said, "Short words are the best and old words when short are best of all."
Which sets up our Friday folly if you're feeling wise & terse: can you explain any complicated subject, or intricate synopsis, using 12 or less words of one syllable only? For example:
Cryptic Crosswords: Find the play on words. The rest is what the word means.
Skyfall: Gay guy wants to kill his old boss.
Texas Hold Em: Two cards in your hand, plus the best of the rest seen.
Harry Potter series: Young wiz fights the odds (and spells) to get through life.
Nuclear fission? Tiebreakers? The GFC? Pick a knotty topic or story and boil it down to clear, brief speech – I dare you.