7 August, 2012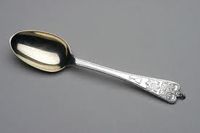 If London doesn't go down in history as The Crying Games, then surely silver is the new black. Our athletes excel in coming second, often by nanoseconds. Which had me thinking about silver spoons, the noble equivalent of wooden spoons – and the man himself, William Archibald Spooner.
So in a break from heavy-duty clueing, this is a Storm to toast the best (and second best) in making sense on offbeat spoonerisms. I'm not after the obvious, like keyboard and B-chord, or butterfly and flutter by. But more the oddball outcome, and how you can eloquently account for the new phrase you make. Like these shots:
Low tide – toe lied: little piggy provided a porkpie
School camp – cool scamp: totally 'bad' cad
Joe Hockey – ho jockey: Nightrider?
Use names, phrases, compound words. Apply the spoon to create your surreal result, and then prove your true wordplay mettle by supplying an elegant or comical definition. More for laffs than clue-craft lessons, this Storm could be the Olympic antidote we need.
Your own name is fine. I may be pushed to play judge + jury this weekend, so let's just see (by comments alone) who aces this playtime in the next few days. No guts.