5 October, 2010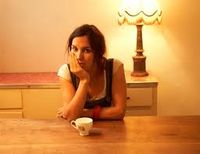 Australia is blessed by songbirds of the vocal variety. And as the annual ARIAs loom later this month, we get to celebrate these sisters with a clue contest. Nine singers, all local, and any one artist in need of your deft wordplay.
In alphabetical order, here is the dream ensemble:
SARAH BLASKO
CLARE BOWDITCH
MIA DYSON
DELTA GOODREM
MISSY HIGGINS
ELLA HOOPER
KATIE NOONAN
LISA MITCHELL
HOLLY THROSBY
Twelve winners will be picked – the best for each singer, with a leeway of three extra billings for those clues whose quality is impossible to split.
No call for a definition element, since any clue you do will be for one of these elegant gals. Instead, just to make it clear which Muse of music you've selected, just preface your post with the singer's unique initials. Hence Mia Dyson can be offered this way:
MD: Suffered dismay when working
Or likewise Clare Bowditch can appear like so:
CB: Sag before desert east of Irish county
The stage is set. The doo-wop chorus is in good harmony. All that's needed is your magical manipulation before the hushed and expectant mosh – with Storm deadline this Thursday twilight.
"