28 May, 2014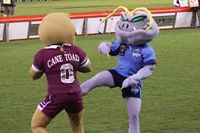 I'll confess. I'm a major Origin fan. Call me a sucker for the gladiatorial hype, the pantomime hatred, the Gus Gould sophism, Rabbit's call, the wallops and velocity. Everything but The Voice cross-promotions, really.
Hence my eagerness to wheel out ten likely names from this week's Game 1 – five from each squad, with a blend of rookies and promising apprentices. Plus a couple with great letters!
Let's see what we can make of them. Give it your best cryptic shot, with no definitions required. In fact, you don't even need to know the colour of their jerseys. That way, when we see the elite arise from the scrimmage, comparing whether your own excellence as a cluesmith mirrors the result at Suncorp.
Jake Friend
Matt Gillett
Aidan Guerra
Trent Hodkinson
Chris McQueen
Josh Reynolds
Beau Scott
Ben Teo
Daniel Tupou
Which mate – which state – will produce the golden point?