3 February, 2011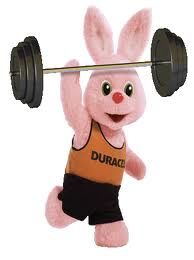 Congratulations to our resident Gym Bunnies whose status has been officially recognised by the Macquarie Dictionary. Last night, in a red-carpet gala, our nation's lexicon read out the Words of the Year in each category, from Business (presenteeism) to Sport (rail trail), from Technology (pocket-dial) to the Environment (flying cane toad). And in the Colloquial category, up popped gym bunnies, triggering rabid applause from the rowdy Brainstorm table.
Other newbies to catch the eye: sandbagging. (Nothing to do with Queensland floods, but the practice of shoring up swing voters with desperate pledges.) And the louche trio of vajazzle (Fashion), neurosexism (Psych) and screwage (apparently Eating and Drinking). Oh yes, the heir to corkage, of course. As you were.
To see the whole pantheon, including some delicious runners-up, click here. The same 'hop' will also you tell you that Googleganger wears the tiara for 2010, being any person who shares your name within the cyber-wilds of search engines. To my shame, David Astle is also the anti-Semitic author of The Babylonian Woe, a football hooligan fond of hurling piss bottles at rival terraces, as well as being the victim of colliding into a moose in Maryland. (Quite the birthright this handle.)
Out of interest – retaining your online anonymity if you prefer – what illustrious heights have your own Googlegangers reached? Should make for a comical Who's Not Quite Who.