13 February, 2011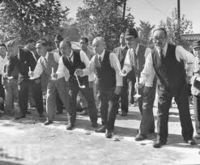 We've spoonerised FOURTEEN pairs of opposites, creating 28 nonsense words. SLOW and FAST, say, make FOW and SLAST. Supplied just one of these odd outcomes, can you intuit the nonsense word missing, and thereby restore the original two opposites? Given YOLD, say, you may dredge up UNG to create old/young.
1 brister
2 jenior
3 rolite
4 gake
5 grink
6 satant
7 clumb
8 darp
9 proly
10 tave
11 skump
12 darry
13 nase
14 nalm
Can you spoonfeed us any more sneaky opposites?
SOLUTION NEXT WEEK
BB296 SOLUTION: Idiocy, ramekin, sleepiest, glossary, smoking, storeroom, gunwales, misfit, decamp. Other forecasts may fare well.
"