24 June, 2014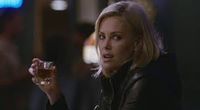 Oxford Dictionary has opened its gates to admit 12 'new' words. As my quotes imply, most of these won't be new to you at all. Some seem old hat. Still, lexicography can be cautious, even more across the ditch.
I've added brief definitions, though this Mental Floss listicle offers you more. You know the game, don't you? See who can make the classiest clue, using both definition and wordplay. Only the whip-smart (4-5) will crack the podium.
AU PAIR – foreign student-aide (Can't believe this has only been okayed.)
BRAGGADOCIOUS – showy-offy
CLUNKER – old car; failure
DEFRIEND – Facebook variant of unfriend
FLASH MOB – finally this sudden crowd arrives in the dictionary!
GEEKERY – brainy devotion such as clue-mongering
LIVE BLOG – this, but live
MOCHACCINO – when mocha and cappuccino combine
MOUSEOVER – to roll the cursor over a link or GIF, etc
VEEPSTAKES – US scramble to be nominated for the 2nd highest office
WHIP-SMART – re this Storm's ultimate winner
YOUNG ADULT – great Charlize Theron film (seriously)
Maybe the niftiest neologist win.