20 November, 2012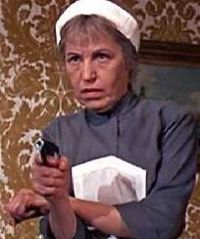 This week's Storm theme is Bond, an automatic Storm (with no formal tallying) as I'll be away from the Word Cave for the week, on secret crossword business. No need for aliases, but you will draw on your 'Q' IQ to render these 007 nemeses into wordplay. (And a purple heart for anyone who tackles the last gentleman.)
Definition is not required, only if it helps your surface reading. Pick whatever baddie takes your fancy, and have a (wise)crack. I'll be playing as well, trying to outshoot you rogue agents, since you usually belt the living daylights out me!
Ernst Blofeld
Julius No
Auric Goldfinger
Rosa Klebb
Francisco Scaramanga
Hugo Drax
Emilio Largo
Le Chiffre
Seraffimo Spang
General Grubozaboyschikov
Licence to file your brainwaves all week. Have fun.