6 December, 2011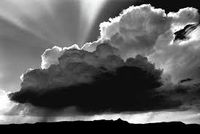 To wrap up 2011, we have a Storm to end all Storms. Over the next two weeks you're invited to wrestle with some supremo clues from my UK archive of 2002. (Yes I have been hoarding dandy clues for a time now, Doctor.)
Apologies to the setters that I don't have sources here, but rest assured we all adore your work. And this Stormathon will serve as proof.
What you have to do is solve the six clues on offer, with four instalments set to appear. Feel free to share knowledge, give hints, brag, blab, however you choose to play, since the real test lies in the follow-up clueing.
Each set of six answers will reveal a hidden six-letter word that you are asked to clue only once the Storm clues have concluded. This must be sent to the DA Email, and presented as a set of four clues.
The alternative, if you wish to grab the judge's eye early, is to re-clue any of this Storm's presented pearlers, using their same answers, and a summer alias.
The overall winner (weighing up the best clue of each session – peer-voted as we go – and the best of the four anon clues) will win a copy of How To Master The Times Crossword by Tim Moorey (which you probably don't need, but it's a delight to own).
Are we clear-ish? Are we ready? The first set of six is due to drop this afternoon.
"