13 December, 2011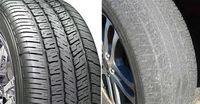 Part 3 of this year-ending Stormathon, perhaps the sneakiest sextet from 2002 AD. Chance your arm at all six, with the forum awaiting for hints, hopes and big reveals. (Just a reminder to use a summer alias to cloak your ID when clueing time comes around.)
As that's the challenge, to create some chic clues for any of these answers, with the best peer-voted effort being in the swim for our final book booty. (If your late to the chase, then hope back a few posts to trace how the action began.)
Alternatively, once the six initials of today's solutions are jumbled, you'll make a word. Invent a decent clue for that word, and save it for a send-in to the DA Email later this week, along with clues for the Stormathon's other thee hidden words. Clear as mist? Here are the six:
Cut from ear to ear (6)

A different girl? (7)

Veteran fighter content (5)

Front tyre becoming frayed with time (8)

Whaler returned by degrees to islands (7)

Significant base in Gulf conflict (10)
n"