25 October, 2013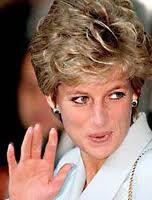 Imagine the shock. Tom Johnson had just created a general knowledge puzzle, back in 1997, where one key entry was SQUIDGYGATE, the nickname for the phone-tap saga involving Princess Diana. You can see the crisis coming can't you?
That's right. Overnight the Paris crash made Tom's answer seem callous in the extreme. With only days till press, the setter had to reset his solution, or fashion a new grid from scratch. Doc (as he's known) went with Plan A, as Cluetopia reveals in the 1997 chapter. He kept as many cross-letters as he could (the odd quartet of S-U——-A-E), converting them into a clue that almost described the state of the nation, in the aftermath of Diana's death:
Small bomb which temporarily dazes its victims (4,7) = STUN GRENADE
Read more crossword yarns, strange and stunning, in the 100-year story that is Cluetopia. And meanwhile, let's 'rescue' other names, and no-nos, assuming fate decreed a late change. Try this lot, where I've retained a handful of odds, or evens, to spare any scandal:
AL GORE > AUGURY
JOE HOCKEY > JEALOUSLY
BILL SHORTEN > GOLDSWORTHY
ROVE MCMANUS > GOVERNMENTS
CATE BLANCHETT > LASERTAINMENT
JUDI DENCH > LUMINESCE
SPOTFIRE > SPITFIRE
What other names, places or acts of God can you give a later reprieve?