30 January, 2011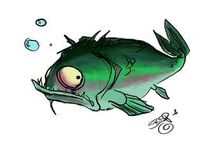 Each answer pairs two six-letter words that share their central four, in the same order. Glum fish, say is SULLEN MULLET. How many more can you hook?
1 Skinny macaw
2 Comatose chimp
3 Horse-like glance
4 Bland potatoes
5 Tender boatyard
6 'Amoorous' behaviour?
7 PBL, once
8 Give symphony
[PS – care to create your own? Choose words that are at least 5 letters long, and see if you can't wrongfoot the team in the Comments.]
SOLUTION NEXT WEEK
BB294 SOLUTION: Asthma, isthmus, aesthetics, priesthood, Esther, calisthenics, masthead, guesthouse, posthaste, anaesthetic, prosthetic, Demosthenes
"