8 July, 2014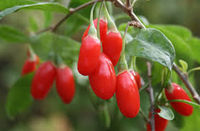 We should all be eating more fermented lactobacilli, according to the latest Epicure story in The Age. The same feature by Elissa McCallum comes with a sidebar of Superfood Sirens, berries and herbs from remote corners, and the ideal fodder for some superclues.
You don't need to clue the ingredient. Wordplay only is fine, unless it helps you to craft a story. See what wonders you can weave with this esoterica.
CAMU CAMU – cherry-like Amazonian fruit
CHLORELLA – green algae
KOMBUCHA – mushroom tea
GOJI BERRY – Himalayan wonder
LUCUMA – Peruvian fruit
MACA – Orinoco aphrodisiac
SACHA INCHI – Incan peanut
PICHUBERRY – Andean source of Vitamin D
Best clue wins a bouquet of dandelion sprouts. Dig in.