26 July, 2013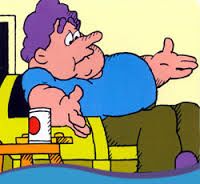 If you switch the ends on NORM, you make MORN. Or swap the sides in DOVER, you get ROVED. As that's the game today, once you've untangled a relatively kind DA themer, as I've only just gleaned by a certain coterie. See if you can trade extremes in one word to make another, and so inspire clues like these:
DA1. Walked the white cliffs = ROVED DOVER
DA2. Fatalistic mindset
DA3. Iconic choral work?
DA4. Inferior spur
DA5. Subsequent honey badger
DA6. Underwear itches
Permission to blab answers. And please opt for byline and number to help corral the stray answers. Nuf fun? Enjoy thy Friday folly.