15 February, 2012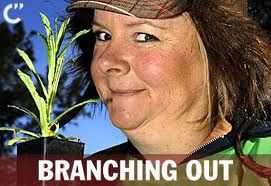 You have to love Magda. Not only does the face of Sharon Strzelecki use Valentine's Day as a platform to support the sense of gay marriage, she also dares the linguistic community to dream up a new word. To quote the gal from last night's Project, as reported by Karl Quinn in today's Fairfax papers:
"I am absolutely not straight. I wouldn't define myself as bisexual either. I would say I am gay-gay-gay-gay-gay-gay-a little bit not gay-gay-gay-gay. Unfortunately there's not actually a word to describe me so I have to express myself through the medium of the dance."
Consider the gauntlet thrown, people. What could be the word Magda seeks? If she's not fully pink, than how about salmon? Or bohosexual? Or maybe ga (being mostly gay)?
And is this a general problem in English – lacking words of degree? Shades of emotion seem well covered, from miffed to furious, or glad to euphoric, but where else do the nuance gaps lie? How do you best say mainly healthy or minutely lewd? Or half-clever? Two-thirds funny? Just a little bit contoversial?