24 April, 2011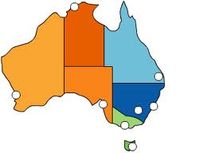 Within MUSHROOMED, once H turns to B, lies BROOME. Just as FORBEARANCE contains FORBES, as soon as the first A turns to S. Again, just altering one letter, can you find more Aussie towns – of five or six letters long – lying inside this dozen? Note, that only one letter needs changing, and the hidden Aussie town is lodged in consecutive letters.
1 badminton
2 remorse
3 bunnies
4 stubborn
5 bombsight
6 courage
7 verboten
8 honourable
9 leopardess
10 careerist
11 doorpost
12 procedural
Can you disguise another town, or create a new hidden set – with or without a category hint?
SOLUTION NEXT WEEK
BB306 SOLUTION: Heal/tow/soul, knave/isle/alter, fur/you/beech, rider/world/purer (Cups), inn/threw/ova, plumb/gored/current, root/weigh/coarse, symbol/loot/liar
"