29 January, 2013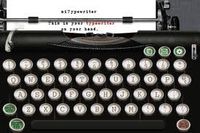 I'm a Times New Roman sort of bloke. Though I've also flirted with Arial. What about you? My Roman bent may be the desire for the clean and classical feel. Besides, anything with slanted, semi-bold, or dainty vibe just yells look-at-me. I'd rather let the story do that. So what's your type – and why?
My question relates to a fun poster I found online, created by Dutch graphic artist, Lars Willem Veldkamp. Check it out, and tell us who you are.
And to stir up our first Storm of 2013, let's clue some fonts – no need for definition. We all have to clue the first three (under a typ-ical alias), and then choose whatever font you like for your 4th.
HELVETICA
COMIC SANS
AMERICAN TYPEWRITER
+ TYPEFACE (4)
Submit your best three mandatories – plus your 4th type – by Thursday 8pm. Then later place votes (2/1 in each category) by Friday 6pm. The winner will score the Smith Journal I never issued, complete with my Esperanto yarn. Not to be confused with Estrangelo Edessa – another typeface! Get to it.