1 August, 2017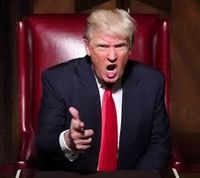 Time for some Storm fun, manipulating the names of people recently gazumped by Trump. Whether they've been sacked, or demoted, or denounced, the souls are many, with so many ripe for some cryptic shenanigans.
No call for defintions, unless they happen to serve your wordplay. Former press secretary SEAN SPICER, for one, could just be: Increases parking blitz. Or: State fleeced chef at times. Or whatever wordplay takes your fancy, just as Trump runs amok in the Oval Office. Have fun, and may the best administrator endure.
SEAN SPICER
ANTHONY SCARAMUCCI
JAMES COMEY
ANGELLA REID
PREET BHARARA
SALLY YATES
MIKE FLYNN
KELLYANNE CONWAY
REINCE PRIEBUS
Hope you're feeling fired.