26 February, 2011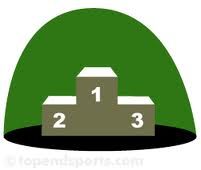 The Loroso Conclusion is not a lost Ludlum title, but the week's climax to a sustained forum in clue philosophy. The guru of honour is Dean Mayer, a regular setter in The Times, and clearly a regular sport for taking on this pro-bono role of judge for last week's Clue Open. (Any gift suggestions welcome, and yes, he does have a copy of Puzzled, I understand.)
Anyhow, enough MC patter. Time for the end game, plus Loroso's three laureates:
USUFRUCT: Turn, surf, cut, rip = product rights (Mr X)
Sometimes it's staggering the extent to which enjoying or not enjoying a clue boils down to individual taste. Place this clue in a crossword and I've no doubt there would be lots of compliments for the quirky presentation an unexpected run of short introductory words; there might even be additional kudos granted by those familiar enough with the world of surfing to understand the references. But it didn't really hit the mark for me, and I think in the end it was because the 'product rights' bit just didn't seem to tie in with the rest – not convincingly enough anyway. If I can be persuaded to understand the references better I'm still not happy with 'rip' as the anagram indicator – it doesn't really suggest the necessary jumbling of letters.
WELTANSCHAUUNG: Breaking gun laws, each nut displays inner beliefs (SK)
Well, this is just the sort of word your average solver would love to discover in a crossword. Not. Same applies to your average – no, even your most highly accomplished setter would just relish having to write a clue for. Strewth, as they say. Yet this clue demonstrates that a pretty awful set of letters can be turned into something solid, plausible and amusing. OK, the surface reading is faintly clunky, but it is still coherent and clearly points the solver towards an anagram; and that solver will be grateful for such overt signposting on the realisation that the answer is a tough, obscure word. In terms of 'Wow!' factor this can't be a contender, but it is a fine demonstration of how a rotten word can be clearly, helpfully and accurately clued while retaining a good surface reading.
And now we come to the really tough part – selecting a top three. If the criterion was simply originality the task would be almost impossible because several clues take the unexpected into the realms of outlandish genius. I also have to bear in mind that, from the outset, this whole exercise is based on the sort of words you're unlikely to see in the solution grids of the average daily crossword. To insist that, because of this, clues should be presented in as straightforward a way as possible is almost certainly going to remove a lot of the fun, so I'm going to take the unusual measure of imagining that each answer appears in a puzzle with all (or nearly all) of its letters cross-checked, so the clue-writer has been given the freedom to get a little bit down and dirty in the knowledge that the solver potentially has a huge amount of help available from other answers.
In third place: JEJUNE: In Paris I twice ran over a pedestrian (SK)
An outrageously cruel but funny image and clever use of French words throughout the wordplay. That tiny niggle over 'ran' instead of 'run' may have denied this clue second place, but it's a cracker anyway.
In second place: SKIRL: Scream downhill on both hands! (SimonL)
The charade indicator 'on' won't be on the approval list of all solvers; firstly that's a 50/50 moot point anyway, and secondly the problem doesn't exist at all if this is a down clue. A beautifully concise offering with a great surface reading.
In FIRST place: CONTUMELY: Barb: fashion nut in pretty outfit (Mauve)
Not a word is wasted in this fantastic clue. All of the wordplay gubbins sits perfectly and the definition is both appropriate and very, very crafty. Definitely a clue to be proud of.
Hear, hear, echoes DA, and not in any pseudo way. A splendid contest with three fitting winners. Congratulations to those compilers, and the biggest huzzah must be reserved for the arch-compiler Loroso, whose grace and guile have made us all a little wiser, and a lot more clued-up, in the diverse realm of Cryptopia.
"