13 July, 2014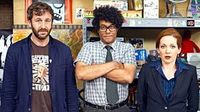 IT is not just Information Technology, but the initials of every answer below. (And just to make IT a few degrees more Intensely Tricky, I've Tucked away each Individual Tip to answer lengths. (All answers are common phrases or names.) Intuit These:
Abuse
Earner's levy
Old Price is Right host
Vain menace
En route
Match finale
Fancy!
Dreamy hideaway
Cockpit check
Russian author (who shares my birthday)
Arbitrage
Fartlek
SOLUTION NEXT WEEK
BB467 SOLUTION: Sw/eden, Sa/moa, Ku/wait, Su/dan, Qa/tar, Ga/bon, To/go, Ja/pan, Ba/hamas, Ro/mania, Ic/eland (or Ireland), So/malia
"