2 November, 2010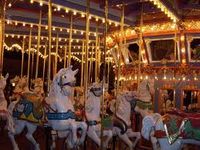 Can you hear the Flemington fanfare, Fernando? The drum of hooves? The allegro racing of the heart? The falsetto sigh of drunken marqueens?
That's right, punters: the season is here for the handling of horse flesh. A clue contest in fact, turning the eight previous winners below into an elegant piece of wordplay – plus the winner of this year's race, to make a total of nine possible prizes.
Pick a horse, any horse, and convert the creature into a clue (with no definition required). Or pick the field and see how well you can handle the conditions. As chief tout, I'll be on the lookout for fresh approaches, concision, elegant surface sense – and good pedigree of course.
So, your choice of champs:
Makybe Diva
Media Puzzle
Rogan Josh
Jezabeel
Doriemus
Vintage Crop
Tawrrific
At Talaq
Plus this week's winner: AMERICAIN
To post an idea, just identify the horse by its initials, followed by the wordplay, like so:
MD: Possibly gained $1000 from opera star
VC: Graffiti signature in foreign province
The crowd is hushed. The barrier gates locked. The starter mounts his gantry. His finger settles on the button – and they'rrrrre off. (All bets invalid after Thursday sundown.)
"