24 September, 2011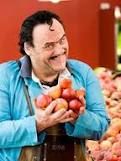 Alee, Eremite, Okra and Ha-ha walked into a bar. Along with RA and Clueless, Model T and To Wit, not forgetting We Hear, Ewer, Tup, Isla Fisher and the Prince of Squares. Quite a crowd for a weeknight.
The aim of the evening was to puree some low fruit into six spectacular flavours. (If you're lost, don't worry. Just read the classy clues to come.) In fact, let's all do that:
CLUELESS: Sells cue – broken, lacking a tip [Canny regard for the overall story by To Wit, who shares the honours with another anagram clue:]
CLUELESS: Doctor uses cell Emma reproduced [Eremite this time. The Emma reference, also adopted by We Hear, is the Silverstone chick flick, while not a word is blown in a compelling clue. Honourable mention to Tup's DA dig, We Hear's alternation trick and the glorious rebus of Isla.]
EDAM: Fromage d'Amsterdam?! [Three cheers for We Hear, who uses the from part of fromage in a mind-bending twist. And a nod to Tup's hidden & lit, plus To Wit's hidden, and Isla's play on block. Also admired Model T's attempt to keep things financial, while Ewer's splice of Eve and Adam was ingenious.]
NOSTALGIA: Soviet leader takes off from A-1 glasnost assembly: aahhh for the good old days! [RA uses an old buzzword to revive that retro sense. But no less tidy and compact are:]
NOSTALGIA: Remembrance at a losing battle [Isla, and…]
NOSTALGIA: AA lost gin cocktail longing […ha-ha. As for alee's lyrical treatment, all you lacked was a signpost – but lovely nonetheless.]
PROVERB: A bird in the hand, perhaps, to show the guts of bowerbirds? [Brilliant work from To Wit. Ghoulish and elegant all in one. Though wait, there's more:]
PROVERB: Forgive and/or forget?! [Completely Clueless is a complete renegade. Think it through pro-verb, the whole being proverbial. It's insane, and I love it. But I cannot ignore:]
PROVERB: Saying "Bowled!" after spin bowler's turn [We Hear again. Check it out: PR/OVER/B. Mwwah. While Okra warrants a wave, though I had trouble with 'made it']
SCRAMBLED EGGS: Dashed to works on the illustration of military rank [Ha-ha must know some defence slang, as scrambled eggs are the pips and regalia on your epaulettes. It reads very well. And I salute To Wit for the SC(rambled)EGGS idea, an old LB gag in fact. While Okra's Save Rio – as in ovaries – is a resounding hoot.]
WEEKNIGHT: Around eight, knew it was time for bed! [Peerless work from Clueless, a gem. And huzzah to Tup who tried something wonderful, with Ken Done in 'import', though the deceit was just a fraction deficient.]
Totting up the points, with 3 for a verbatim citation, and one for a nod, the Starfruit is To Wit on 8, with We Hear the Second Banana on 7, while Ha-Ha and Completely Clueless came up cherries on 6. Here's hoping there are no sour grapes from the rest of you. With just one favour to ask: Who Are You?!!
"