25 February, 2012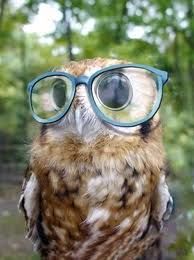 Quite liked this voting system – a welcome break from the autocratic model. Particularly coz your darlings differed from mine.
For what it's worth, I adored Nib's Olsen twins, then RK's energy inefficiency (Light's on, but nobody's home) and Sam's inflight meal (Pie in the sky). But that's irrelevant, as your faves appear below, with the best two, the final two:
Three-pointers:
A twinkle in your eyes (star pupils – Nib)
Walk out while the club is burning (Strike while the iron is hot – Boniface)
Rehab (Get off the grass! Sam)
Make secure (Fashion police – Play it again, Sam)
Four-pointer, and second prize:
Bathroom accident (came down in the last shower – congratz Em)
Six-pointer and the Translax Sash:
Sick of working (Jack of all trades – arise Sir Boniface)
Thanks for your votes, and your splendid whimsy. All week has been a boobook's genuine grandmother, or a real hootenanny. A fresh tempest Tuesday.