15 April, 2014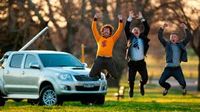 Today's Times is a pangram delight, with a surplus of Ks, and a lovely interlacing of the quaint and the new. (And yes, I cracked #8.) Sitting amid this Scrabbly challenge is possibly the best triple-meaning clue I'm encountered. Here it is:
Hear rally vehicle (4-2)
Not just a compact clue, but each meaning of PICK-UP is distinct, the whole combining to tell a watertight story. Which clears the road for this week's challenge, if you wish to tri. Who can compose the neatest triple-meaner? If anyone can reach the pick-up pinnacle: oh what a feeling.
Some of my early bids:
Sheep strike memory (RAM)
Jargon is unable to incline (CANT)
Remote location for HG, the singer? (MERCURY)
Nowhere near as stylish, highlighting the hurdle before us. Proper names are OK. So too heteronyms, where BOW can be a weapon, or prow, etc. Who will pick-up this week's triple crown?