15 April, 2012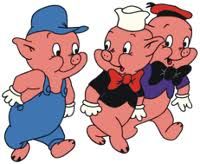 Don't fret if you feel you're seeing triple this week, as today with play with well-known phrases and titles that entail three in some capacity. 3-PS, for example, would pave the way to 3-Piece Suit, while 3LP are 3 Little Pigs.
Using nous, nerve and tenacity (the magic three of puzzle solving), can you figure out what other 3-titles and 3-phrases get short shrift below?
3WM
3-LR
3M by AD
3C in a F
3S by AC
3BGG
3A (with SM)
3-PT
3LOM by SIN
3K (with GC)
3-RC
3T (with PD)
[Any other threes, please? Or try another number.]
SOLUTION NEXT WEEK
BB357 SOLUTION: The Club, Siren, Don's Party, Top Silk, Travelling North, Emerald City, Sons of Cain, Dead White Males, The Removalists
"