30 October, 2012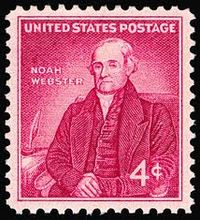 Noah Webster was not just America's Mr Dictionary – he was also a champion of spelling reform. Noah is the reason why Yanks have dialog, and favor, and gray, and -ize. Though some of Noah's suggestions hit the cutting room floor, like fether and tung for instance.
This week, for a shot to win the UK edition of Puzzled, we play with Noah's other flops – seven words that missed his own dictionary. Seven words – but we file four. Here they are:
FLEM, HIZ, GIV, DET
NABOR
PROOV
MUSKETOE
Using the homophone recipe may backfire, as all these are FONETIK bids to IMPROOV the original English. But let's pretend all seven words won approval, and now's our job to clue them, with defintion included – one from the first quartet, then the last trio in toto.
Choose an alias using Noah-fonetix, and file your best four clues by Thursday 9pm, no later. To vote, let's keep it simple with a 2/1 per word, with our book-winner the greatest accumulator for one clue, or their clues overall. Gud luk.
In case I wasn't too clear re voting: Just two votes in the first batch – best (2), next-best (1); and then two votes (2/1) for each of the last three mandatorry words. Good luck orl players.