29 June, 2012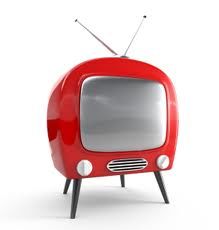 OK, promise I'll leave the TV alone next week. (Call me wistful, but I'm still clinging onto that cathode tube like an ex in denial.) Still, as a droll wrap-up to a tempestuous week, I turn to an idea sparked by National Public Radio in the US.
Can you string TV shows together – past or present – to tell a story, or create an amusing sequence? To set the bar high, proceed to read the winners' ideas from the American contest:
Dexter/ Lost / Lassie / Six Feet Under
Desperate Housewives / In Search of… / Good Times / Kidnapped / Bondi Vet
Father Knows Best / Who's the Boss? / That's My Mama
The Nanny / Lost / All My Children
Those last two come from America's wondrous puzzle-maker Patrick Berry. While you probably sussed the local tweak I added to the second string. But you get the gist. Those four samples are pretty damn good, but we are a crafty bunch. I'm sure we can carve some gems.
(And yes, I did get started early with this game, if you notice 22-across in today's DA. Talk about voodoo clue! So c'mon crew, let's have some fun at the box's expense.)