31 August, 2011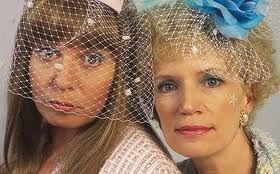 Look at moi, Kimmy, look at moi. I've got eight words to say to you: cowabunga. And croquembouche. And doh. And plate up. And yada yada yada.
I should explain. Next week, as I hinted on the blog, I'm heading up to Sydney to join the Style Council's annual language powwow. Sponsored by Macquarie University, the gathering is a schedule of panels and forums about how English is faring in 2011. And one part I play is arguing the influence of TV over the words we choose and use. Even the way we speak –
One way to groom my rhetoric is to create a kapow list of phrases and catchwords that telly has given us. You might even say kapow is courtesy of Batman. Just as lock it in, and beam me up, and sit on it, each have a cathode history. Or maybe you have your own TV theory in regards to the vernacular.
With TV ads their own separate category, I suppose, a fount of slogans and lasting taglines, I'm wondering what other telly-show terms we can wrangle? So head em up, move em on, ride em out, eat my shorts…. Any other suggestions?