21 December, 2010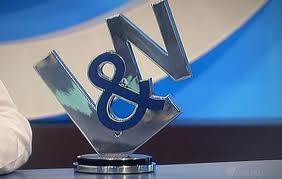 Congratulations to Andrew Fisher and Naween Fernando, our two finalists for Series 1 of Letters and Numbers. In case you've yet to see the drama here, I won't spoil the result – enough to say that these players delivered a battle worthy of the hoop-la. Not just ingenious, the two men are also gracious champs, and it was a privilege to see their poise and grit at such close quarters. Hope you feel the same, watching the episode.
Flukily, the day after the slamdown show went to air, I tackled a Brendan crossword in the Guardian, and this clue lobbed at 10-Across:
Effort finally revealed name of top solver on TV (9)
The answer I realised was ENDEAVOUR, a reference to Inspector Morse's first name, but I reckon the answer is an interchangeable (6) – ANDREW and/or NAWEEN. Such a buzz to see two brilliant minds in action. Thanks to you both.
"