16 March, 2013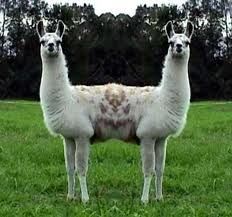 Irony of ironies, we have a two-way tie in our two-way Storm, crafting clues with alternative answers. This was a tough challenge. When it came to voting I looked for the clues that carried no excess baggage, which mutual solutions can create.
Next I applied the push-mi-pull-yu rule: can this clue operate in two directions smoothly and soundly? And then I voted, largely in tune with consensus, though not precisely, which also seems apt for this brain-strainer.
With thanks to CL for the very helpful cheat sheet, here we go:
Astle's cryptic is hard! = STALE/SLATE [Ke$ha won the day for topicality, though the hard as SLATE link did deter a few in their notes. This clue earned 4 points from 4 votes.]
Fruit grafted on elm = LEMON/MELON [Da-da, DA as Madam found the obvious pairing, and grubbed 5/2 for fourth position.]
Topping solo aria, unusual chorus ends = SAUCE/GOALS [This impressed two peers for its ambition, and novel design, scoring Noyes 6/2.]
Spare change bears fruit = REAPS/PEARS [Noyes tightens his grip with a sleek clue, where 'bears' can serve as either link or definition element. Great work for an 8/3 return.]
Whitlam: Leader dumped for right winger – harsh = ROUGH/TOUGH [This is a dazzling clue, once you navigate the punctuation, and decipher the double substitution. Props to Sasha for a matching yield of 8/3, our 'twinner' for a double-shot Storm.]
I won't pick through the tally sheet this week, as a shallow field and limited votes saw the winners take the lion's share. But thanks for a lively ponder, some interesting debates en route, and of course these succulent pears above by way of wordplay pairs. Hip, hip.
"