25 February, 2014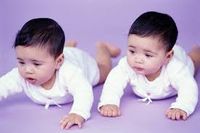 The answer is PAT-ELLA, a clever charade clue composed by Roger Squires. Appearing in the Telegraph, the clue in fact was the 2 millionth from Squires' desk, making him the most prolific cryptic compiler in history.
The clue is also the title of a scintillating crossword history, written by Guardian blogger Alan Connor, to toast the puzzle's centenary. And I have two copies – one on each knee – thanks to the generous people at Particular Press, an imprint of Penguin. Care to win one? Here's the contest:
Keeping with the two-then-one-idea, players are invited to chose a word with a double letter that becomes a new word when that double is slimmed to a single. SLIMMED and SLIMED is one such pairing. DESSERT and DESERT. POSSESS and POSSES. You get the gist.
Clue both words – with both definition and wordplay elements – for a chance to score the Patella novella. To keep things above board, select an alias with a set of doubled letters, and handpick your two best pairs – here in the forum – before Thursday 6pm. Here's a taste:
GRIPPING – Bigfoot awesome, exciting
GRIPING – Lamenting break in horse laps
By all means, provide an explanation where a clue seems less clear. To join the knees-up, I will be a covert contestant, as well as the sole judge Judy – not Juddy – in order to streamline the end-game. The winner will have wrangled two fine clues, not just one zinger within a pair, so take care with booth subterfuges. God luck to Al.