27 April, 2013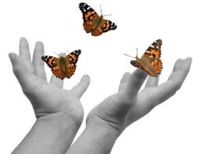 Part 2 of our Two-Up challenge, where we clue two words per post, and choose our best next week to submit. The overall winner will score The Etymologicon by Mark Forsyth, a wondrous orbit around the dictionary.
If you haven't entered the fray yet, no trouble. Just check the earlier post, pick a wartime alias, and play the two-up challenge to be in the battle. Here's your next dilemma – two words form the book with their bizarre backstories. Clue both. But come filing time, you must pick only one:
FOXGLOVE – purple thimble-like flower [From folk's glove, as the flower seems tailor-made for the hands of sprites, or the Folks.]
PSYCHOANALYSIS – method of studying the mind and investigating the subconscious [Literally butterfly-release from Greek, coined by Sigmund Freud]
Another toss-up early next week.