30 April, 2013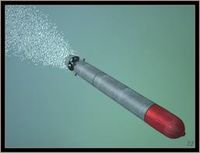 Your last chance to pick a winner between your two clues. So clue both of these words below, and then select your best (or the least selected) to woo the votes on Wednesday. The overall winner stands to earn The Etymologicon by Mark Forsyth, who I'll be hosting at the SWF very soon – along with my crossword chat on Friday..
Pick an Anzac alias, if you haven't entered already, and craft your clues in the chatroom. Submit your best three (choosing one clue per post) by Wednesday 5pm. Here's the final pair:
TORPEDO – underwater missile [From Latin torpidus, tired or numb, due to the paralysing effect of the torpedo fish.]
SCAMPER – to dash, or flee [From escamper in French, to leave camp.]
Choose your best clue per post, and submit these three by Wednesday 5pm. We then vote via EmailDA on Thursday, with 3/1 votes per word. Our best tosser snags a brilliant book.